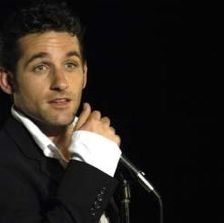 FOR most of today I'll be recuperating from last night's birthday party. I was 41. One year over the hill. I was in Cardiff. I never really get to spend birthdays at home because I'm always working. People come down and see me wherever I am or I sit alone in a hotel room drinking.
I've been in the UK for eight years. I live in Edinburgh now with my wife and two kids. They are 15 and ten.
The last time I saw them was about a week and a half ago.
I've been on the road longer than the Rolling Stones. I don't care what Keith Richards says. At least he's had a couple of months off here and there. For the past 23 years I think I've only had two weekends off.
You've got to live with a pretty strong lady to be able to do that. We've been together for 16 years and she knows the score. Most women would have left me by now but she's crazy.
When I do see them I spend a load of money on them. When they see dad, everybody gets new stuff. I'm helping this recession by seeing my kids. When Tom ain't shopping the economy just sucks.
Tonight I'll be doing another show in New Town, wherever that is.
It's after each show when I'll do my writing. When I've just come off stage I'm at my most creative. You've just had a good show, you're feeling funny and everything that comes into view you can make fun of. I don't take it too seriously. I'll sit and have a few drinks and laugh at the world. Right now I'm writing for the next tour. I've been on this tour since the spring. I don't see the morning until the early afternoon. The early bird may get the worm but the afternoon guy punches him and steals his worm.
The first thing I do when I get up on a Saturday morning in the hotel room, is I'd check my Ladbrokes betting tickets to see if I'm a millionaire. I don't do it a lot, I just pick a couple of horses now and then.
After I've been to collect my winnings – or not – I'll have a bit of breakfast then maybe check out a flick. The one that I saw recently that was really good was Conan The Barbarian (left). I'm a big comic book fan. The first couple of X-Men were OK but the last one (top right) was wicked. Conan was the one for me. You've got kids cutting off people's heads. You can't get any better than that.
I've become very British with the TV I watch. I want to know how much my stuff is worth. Not Antiques Roadshow, no, the Roadshow sucks. Everyone knows that. That's for old ladies. I'm talking Cash In The Attic, Flog It, Dickinson's Real Deal (below), Bargain Hunt – those are the ones. That's where you find out what your stuff is worth. Have I found out that I have anything worth much? I'm Canadian, we have nothing old. Here's a piece of wood that was brought over from England a hundred years ago. How much is that worth? Nothing.
I take DVDs with me when I'm on the road. At the moment I'm watching The West by Ken Burns. It's about how the American West was taken over. The British, you guys didn't really own much of America. I didn't realise that. Or that Texas was a country for a little while.
On Saturday afternoon, I'll be heading to the next show on the train. I don't know where I'm going yet, that's too far into the future to think about.
I never go and watch another comedy show. When I get a day off I'll do anything but comedy because you've got to get it out of your head sometimes.
My perfect weekend would be one spent with the kids in a hot and sunny place where my pound is worth 800 billion of their dollars. I'd go to Somalia right now if I could.
Tom Stade appears at The Glee Club on Tuesday September 27 as part of the Nottingham Comedy Festival. Starts at 8pm. Tickets are £13.50 and £14 from the venue, call 0871 472 0400 or visit www.glee.co.uk